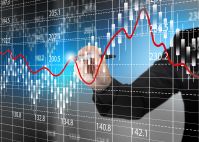 The oil market ended the trading session on Thursday in the red. By the end of the day, WTI crude oil fell by 2% and closed trading at $ 41 per barrel.
Market participants, albeit with a slight delay, nevertheless reacted to the growth of oil reserves in the United States. The Energy Information Administration said Wednesday that US oil inventories rose 4.9 million barrels in the week ending July 17. Analysts surveyed by S&P Global Platts expected an average drop in inventories of 1.9 million barrels. The day before, the American Petroleum Institute (API) reported an increase in reserves by 7.5 million barrels. EIA data also showed that Cushing's stocks rose 1.4 million barrels, while US production rose 100,000 barrels to 11.1 million barrels a day last week. It is worth noting that for more than two months this figure was kept below 10.5 million barrels per day, so its growth by 0.6 million is the first alarm signal indicating the beginning of the restart of suspended capacities in the United States.
Oil is also under pressure from growing tensions between the United States and China, which pose another threat to the global economic recovery. The Chinese authorities ordered the closure of the US consulate in Chengdu, a city in the southwestern part of the country, in response to Washington's decision to close the Chinese consulate in Houston. The Chinese Foreign Ministry said in a statement that on Friday morning the US Embassy in Beijing was informed of the demand to stop all work and activities of the consulate in Chengdu.
In addition, oil demand will continue to curb the increase in COVID-19 infections in some US states, forcing authorities to suspend or abandon the lifting of restrictions on business activity. According to Johns Hopkins University, the number of confirmed cases of coronavirus infection in the United States has exceeded 3.9 million. Given the prevailing news background, oil risks remaining under pressure.
WTI SellStop 40.85 TP 38.90 SL 41.30
Analytical reviews and comments to them reflect the subjective opinion of the authors and are not a recommendation for trading. Author Artem Deev is a trader analyst at AMarkets . The social network of traders is not responsible for possible losses in case of using the review materials