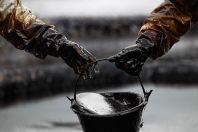 The oil market continues to develop a rapid bullish rally. Over the week, WTI crude oil quotes added about 10%, recovering to $ 56.61. The last time oil was so expensive was in January 2020.
Prices are supported by expectations that OPEC + countries will continue to faithfully comply with the terms of the deal to cut oil production amid the global economic recovery after the pandemic. The OPEC + monitoring committee on Wednesday noted that in January the degree of implementation of the agreement on production cuts was 101%. In addition, according to the experts of the OPEC + technical committee, this year the oil deficit on the market may reach 2 million barrels per day. The data on changes in US oil reserves remain on the side of buyers. Despite the fact that on Wednesday the Energy Information Administration (EIA) of the US Department of Energy on reserves was less positive than the report of the American Petroleum Institute (API), the decline in reserves was still interpreted as evidence of normalization of demand. As a reminder, according to the EIA,
It is worth noting that market participants completely ignored the annual report of the US Department of Energy with pessimistic forecasts for the recovery of demand. The EIA noted that total US energy consumption is likely to return to 2019 levels only by 2029, but this "will largely depend on the pace of the US economic recovery." If US economic growth remains low, energy consumption may not reach 2019 levels until 2050.

Judging by the dynamics of the American stock market, which once again renewed its historical maximum the day before, traders believe in the recovery of the US economy, even despite the high incidence of coronavirus and the emergence of new mutations against which current vaccines may be less effective. Such optimistic expectations may stem from the accelerated vaccination campaigns in the US, which give hope for a faster economic recovery later this year. Considering the above, WTI crude oil maintains upside potential with an immediate target of $ 58 per barrel.
WTI BuyLimit 56.00 TP 58.00 SL 55.50
Analytical reviews and comments to them reflect the subjective opinion of the authors and are not a recommendation for trading. Author Artem Deev is a trader analyst at AMarkets. The social network of forex traders is not responsible for possible losses in case of using the review materials

The content of this article is the solely private opinion of the author and may not coincide with the official position of the Forex social network Special. The materials published on this page are provided for informational purposes only and should not be construed as investment advice or advice for the purposes of Directive 2004/39 / EC.