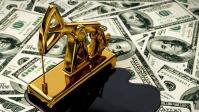 Monday's trading session was quite successful for oil buyers. At the end of the day, Brent crude oil recovered by 7.7%, closing the day at $ 27.83 per barrel. Quotes were supported by a general improvement in market sentiment amid softening of quarantine measures in several regions of the world, which returned to the market hopes for an early recovery in hydrocarbon demand.
The rise in oil prices was also led by comments by senior officials of the US presidential administration Donald Trump that the United States did not intend to punish China economically if Beijing complied with its obligations under a trade agreement earlier this year. It is worth noting that the statements of Deputy National Security Advisor Matthew Pottinger and Minister of Finance Stephen Mnuchin were made against the background of barbs between Washington and Beijing in recent days. In particular, last week, Trump threatened to impose additional duties on Chinese goods, accusing China of creating a coronavirus. Despite the softening of rhetoric, relations between countries remain tense. Mnuchin, who was one of the key negotiators of the trade agreement, said in an interview with Fox Business News

It is worth noting that the problem of weak oil demand will remain on the market until the complete removal of all quarantine measures in the world that impede the restoration of the work of aviation companies. Berkshire Hathaway, chairman of the board of directors, and billionaire Warren Buffett, who said on Sunday that his financial holding company had sold all of its shares in the US aviation industry, also did not believe that this could happen in the near future. According to CNBC, Berkshire's aviation assets in December were worth more than $ 4 billion and included positions in the United (UAL), American (AAL), Southwest (LUV) and Delta Airlines (DAL).

Tomorrow, traders will be presented with data on changes in US oil reserves. If the reserves increase by more than 10 million barrels, the problem of lack of demand for oil will also increase the full filling of oil storage facilities. Against this background, the decline in oil may well resume.

Brent SellStop 27.70 TP 24.90 SL 28.30
Analytical reviews and comments on them reflect the subjective opinion of the authors and are not a recommendation for trading. Posted by Artem Deev Trader Analyst at AMarkets. Social network "Forex Specials" is not responsible for possible losses in case of using review materials
Similar articles:
FOREX FORECAST → We sit at home making forex trading! Trading ideas for traders 04/01/2020: On the potential for reducing GBPUSD
Investments → Quarantine - we sit at home making money on stocks! Trading ideas for investors 04/02/2020 for investment in shares of JonsonJonson (NYSE)
FOREX FORECAST → We sit at home making money on Forex! Trading ideas for traders 04/01/2020: Will the dollar grow?
FOREX FORECAST → Sitting at home - how to make money on oil! Trading ideas for traders 03/31/2020: Brent aims to reduce to the area of ​​$ 20 per barrel
Investments → We sit at home and earn money on stocks! Trading ideas for investors 04/01/2020 investment in shares of PJSC Tatneft