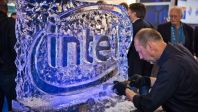 Sitting at home - how to make money on investments? Trading ideas for investors 05/06/2020 Intel Corp. shares (NASDAQ)
Intel Corp. Technical Analysis (NASDAQ) #INTC

On April 20, we already bought CFDs on Intel shares at a break of 48.80. After the predicted growth, a flat began, which is now observed. The lower flat border (56.70) holds back Intel Corp. stock sellers. (NASDAQ). Break through 59.27 will give the formation of an ascending pattern 1-2-3. Also, the Stochastic Oscillator indicator showed a way out of the oversold zone.
Investor Relations: Intel Corp. Stock Price (NASDAQ) #INTC online
Intel Corp. Stock Trading Idea (NASDAQ)
Investors Buy Intel Corp. Shares (NASDAQ) Above 59.27.
Stop Loss - 56.70.
Target levels - 61.80; 67.60.
Grand Capital Analytics
Analytical reviews and comments on them reflect the subjective opinion of the authors and are not a recommendation for trading. Forex Special is not responsible for possible losses in case of using review materials.
Similar articles:
Investments → Investing in stocks: Investors trading ideas 11/23/2018 shares of PJSC Lukoil
Investments → Investments in shares of The Kraft Heinz Company - trading ideas for investors for today 04/12/2018
Investments → Stocks, Investments - For investors, trading ideas for today 03/12/2018: shares of PJSC Magnit
Investments → Investments in stocks: For investors - trading ideas 11.28.2018 shares of PJSC Lukoil
FOREX FORECAST → Investments in shares of Sberbank PJSC - Investor analysis of Sberbank shares and trading ideas for 12/06/2018