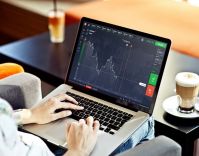 The pair USDJPY is declining during the trading session on Wednesday. By 11:00 Moscow time, the US currency was quoted at 106.30 against the yen, losing 0.2% from the opening. Market participants associated the strengthening of the yen with the decision of the Federal Constitutional Court of Germany, requiring the European Central Bank to submit an economic rationale for a large-scale bond purchase program implemented by the regulator. The German court's statement turned out to be tougher than many analysts expected, which triggered the sale of the euro.
In addition to sales of risky assets, the yen was supported by an increase in tensions between the United States and China. Earlier, US President Donald Trump suggested that the laboratory in Wuhan is a source of coronavirus. Moreover, US Secretary of State Mike Pompeo said on Sunday that he had already seen "a lot of evidence" of China's involvement in the outbreak of the pandemic. US intelligence agencies are still investigating the origin of this disease, but do not exclude that it was created by man. Market participants fear that rising tensions between the world's leading economies will lead to the mutual introduction of additional trade duties, which will further cloud the prospects for global economic recovery.

Today, the dynamics of the USDJPY pair will be determined by statistics from the United States. At 15:15 Moscow time, a report on the state of the US labor market from ADP will be released. According to the forecast, over 20 million people were left without work in the USA last month. Since these expectations are based, among other things, on reports on the growth in the number of weekly applications for unemployment benefits, there is no doubt that such a significant deterioration in the employment situation is. Another weak release from the United States may well support the demand for defensive assets, and in the USDJPY duo it is the yen that looks more attractive. A similar reaction can be expected on Friday, when traders will be presented with official data on the state of the labor market - nonfarm payrolls. With this in mind, the decline in the USDJPY pair risks continuing with the immediate target at 105.00.
USDJPY SellLimit 106.60 TP 105.10 SL 107.00
Analytical reviews and comments on them reflect the subjective opinion of the authors and are not a recommendation for trading. Posted by Artem Deev Trader Analyst at AMarkets. The social network of Forex Special traders is not responsible for possible losses in case of using review materials