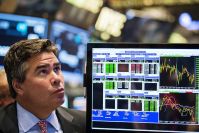 EURUSD continues to consolidate near 1.0850. Market participants are waiting for an additional fundamental driver that can give impetus to the further dynamics of the euro.

In general, the European currency remains among the outsiders, preserving the potential for a "bear" rally. In Europe over the past month, about 18 million people were left without work, as the coronavirus pandemic continues to have a devastating effect on the world labor market, forcing employers to send employees on unpaid leave or even dismiss them. Perhaps the situation is worse only in the USA, where 22 million Americans were left without work in a month.
European governments are trying to offset the economic impact of the pandemic through programs that cover a significant portion of employers' salary costs. To cover these costs, a loan program worth € 100 billion was previously approved. Nevertheless, even despite new incentive programs, the employment situation continues to deteriorate. According to McKinsey & Co., a consulting company, up to 59 million jobs in the EU and the UK are at risk, representing 26% of total jobs.

Thursday's trading session promises to be an extremely volatile day for the European currency. Tomorrow, preliminary data on business activity indices in the manufacturing sectors of Germany and the Eurozone will be presented to the attention of traders. In addition, EU leaders will hold a video conference to discuss new measures of economic support for the currency block. Market participants believe that even if an agreement is reached and additional financing is agreed upon in the amount of 750 million to 1 trillion. Euro, the reaction of the euro will be muffled, because the market will still consider these measures insufficient. Given the likelihood of weak statistics on industrial activity, EURUSD sellers will get the opportunity to test support for 1.08. For this reason, we recommend holding short positions.

EURUSD SellStop 1.0850 TP 1.0710 SL 1.0910

Analytical reviews and comments on them reflect the subjective opinion of the authors and are not a recommendation for trading. Posted by Artem Deev Trader Analyst at AMarkets. Forex social network is not responsible for possible losses in case of using review materials