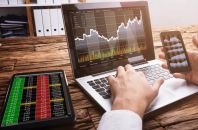 World stock indices on Tuesday show a positive trend. German DAX30 index added with the opening of the 1.6% and recovered to 10400. market was supported by the first signs of the effectiveness of the quarantine measures throughout the world to help contain the spread of the coronavirus pandemic.
European countries, including Italy and Spain, on the eve reported slowing growth in the number of new infections, allowing to make the assumption that in a few weeks quarantine conditions can be alleviated. In addition to the situation in the euro area, market participants continue to closely monitor the epidemiological situation in the US as more than a quarter of all reported HIV infections are concentrated in this region.
Eurozone finance ministers will hold a meeting today in order to reach agreement on the terms of collective support for the currency bloc's economy. The main question is whether the redistribution of capital agreed by leaders of the richer European countries to countries with a lower standard of living, or they can arrange cheap loans, which will increase the debt burden of vulnerable economies like Italy. Market participants believe that we can also go on the issue "koronabondov" as well as a line of credit granted under the European Stability Mechanism (ESM). However, according to experts Moody's positive effect on government programs to support the economy will not be sufficient to fully redress measures to contain the virus.

Mood DAX30 customers can spoil and weak data on the index Ifo expectations, sagging to -20.8, which was the most dramatic fall in the entire history of the survey, which is conducted since 1991. During the global financial crisis of 2008, the index fell by 13.3 points. Particularly low were the expectations of industrialists in the automotive industry. In March, the industry index fell to -36 points from 4.2 in February. Manufacturers of rubber and plastic also predict a significant decline: the index was -32 points after 2.9 in February. Apparently, the German industry in the next three months is really waiting for the strongest decline. Taking this into account, "short" positions in DAX30 is still a priority.

DAX30 SellStop 10300 TP 8500 SL 10700

Analytical reviews and comments reflect the personal opinion of the authors and are not a recommendation to trade. Author Artem Deev trader analyst AMarkets. Traders community is not responsible for any losses in the case of the review of materials