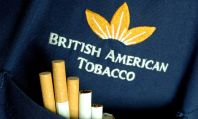 How to make money in stocks today, out of the house? Trading ideas for investors 04.07.2020 for investment in stocks British American Tobacco PLC
Technical Analysis of Stocks British American Tobacco PLC #BATS

The general trend of stock British American Tobacco downward. The resistance level is 30.20. holding back buyers. The indicator Awesome Oscillator formed a bearish divergence, and the Stochastic Oscillator indicator shows overbought stock British American Tobacco. Break of the support level of 29.00 will give a formation of 1-2-3 downward within the overall downtrend.
See online stock price American Tobacco the PLC the British #BATS

Trade Idea shares of British American Tobacco PLC #BATS:
Investors sold shares of British American Tobacco PLC #BATS below 29,000.
Stop Loss - 30.200.
Target levels - 28.15; 26.30; 25.00.
Analytics Grand Capital
Analytical reviews and comments reflect the personal opinion of the authors and are not a recommendation to trade. Special Forex shall not be liable for any damages in case of a vision materials.
Similar articles:
FOREX FORECAST → Investments in shares of PJSC Savings - Equity Investors Savings Bank, and trade ideas on 12/06/2018
Investments → Investments in shares The Kraft Heinz Company - trading ideas to investors today 04/12/2018
Investments → Promotions, Investments - Investors are trading ideas for today 12/03/2018: shares PJSC Magnet
Investments → Investments in shares: Investor - trading ideas 28/11/2018 PJSC Lukoil shares
Investment → Investing in stocks: Investors trading ideas 23/11/2018 PJSC Lukoil shares