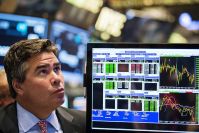 Tuesday's trading session was successful for USDCAD buyers. The US currency recovered against the Canadian dollar by 0.48%, closing the day at 1.3601. Today, during the Asian session, the USDCAD pair is declining and quoted at the time of writing (11:00 Moscow time) at 1.3592.
Local support for the Canadian dollar could have provided data on production activity. Thus, the index of business activity from Ivey Canada in June rose from 39.1 to 58.2 points against the forecast of decline to 25.1 points. At the same time, Canadian Finance Minister Bill Morneau published a forecast on the eve of which the Canadian federal budget deficit could exceed $ 300 billion. The next important fundamental event for the Canadian dollar will be the June labor market report, which will be released on Friday at 15:30 Moscow time. It is expected that the employment rate will rise by approximately 700 thousand. The unemployment rate should drop from 13.7% to 12%. Despite the potential recovery of the sector, Canada's labor market remains in decline, which will continue to restrain consumer activity and also slow down the recovery of the national economy. The Bank of Canada has repeatedly noted that without a steady increase in inflation expectations, as well as in the event of a worsening macroeconomic situation, it is ready to consider the possibility of additional stimulation of the economy. With this decision, the downward trend of the Canadian currency will intensify.
Pressure on the Canadian dollar will also continue to exert a decline in oil prices. Quotes of Brent crude oil closed yesterday in the red, at $ 42.82 per barrel. Today, the correction may continue. The focus of traders is data on stocks, as well as oil production in the US, which will be released at 17:30 Moscow time. Since oil is trading at multi-monthly highs, market participants expect a slight increase in shale oil production. In addition, there is also the likelihood of an increase in stocks. Earlier, the American Petroleum Institute reported that oil reserves in the US last week rose by 2 million barrels. If official data from the US Department of Energy also confirms the increase, oil sales will resume. With that said, the USDCAD pair still retains growth potential.
USDCAD BuyLimit 1.3570 TP 1.3690 SL 1.3530
Analytical reviews and comments on them reflect the subjective opinion of the authors and are not a recommendation for trading. Posted by Artem Deev Trader Analyst at AMarkets . The social network of traders is not responsible for possible losses in case of using review materials