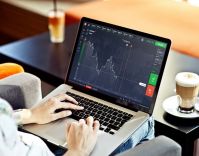 As expected, the speech of the US Federal Reserve Chairman Jerome Powell was able to support the position of the American currency. The USD (DXY) index again fixed above the psychological level of 100, maintaining the recovery dynamics today.
During an online conference on Wednesday, Powell noted that recovering from a mass closure of enterprises as part of quarantine measures to curb the spread of coronavirus would be complex and lengthy. Powell's comments clearly showed his concern about the consequences of a slower and more difficult recovery than expected less than two months ago, when lawmakers generously allocated funds to support households and businesses, and the Fed flooded the economy with trillions of credit dollars. Powell also noted that the scale and speed of the current economic downturn has no precedent in modern history, and it is much worse than any recession since the Second World War.
It is worth noting that the primary reaction of the dollar to these comments was a decrease, because against such depressing prospects for the global economy, market participants seriously admitted that Powell would indicate a willingness to introduce negative interest rates. However, this never happened. The Fed Chairman said that he was not disposed to use this monetary policy tool, which had shown dubious effectiveness in Europe and Japan and could become an insurmountable obstacle to new bank lending. On these statements, the initiative again passed to buyers of the dollar, as a result of which the day was closed in positive territory.

Additional support to the US currency continues to provide increased tension in trade relations between the United States and China. This week, Donald Trump has banned US pension funds from investing in Chinese securities. Market participants fear that explicit anti-Chinese rhetoric may cause the introduction of new import duties, which will further cloud the prospects for global economic growth. Given the above, we believe that the demand for the dollar, as a protective asset, will continue.

DXY BuyLimit 100.20 TP 101.50 SL 99.90
Analytical reviews and comments on them reflect the subjective opinion of the authors and are not a recommendation for trading. The author is a trader analyst Artem Deev AMarkets . The social network of forex traders is not responsible for possible losses in case of using review materials