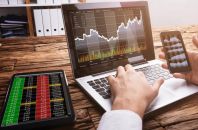 GBPUSD is declining during the Monday trading session. By 3:00 pm Moscow time, the British currency lost 0.41% against the US dollar, slipping to the 1.30 area. The pound is under pressure from the local recovery of the dollar, as well as weaker-than-expected data on the UK industrial sector.
According to published data from IHS Markit / CIPS, the purchasing managers' index (PMI) for the UK manufacturing sector in July was 53.3 versus 50.1 in June. A preliminary estimate indicated an increase in the indicator in July to 53.6. Economists polled by the WSJ expected the final index to remain unchanged from the preliminary estimate. Market participants believe that the continuing decline in the number of jobs in the UK manufacturing sector, as evidenced by the results of a survey of purchasing managers in July, could force the authorities to consider additional fiscal stimulus to the economy in the face of the coronavirus pandemic. Recall that according to IHS Markit / CIP data, employment in the UK manufacturing sector fell in July for the sixth month in a row.
The deterioration of the epidemiological situation in England also led to the decline in the British currency. In particular, about 4.3 million people in the north of the UK were once again in Lockdown conditions, when a sharp increase in the number of cases of infection led to a re-quarantine.
This week the focus of traders' attention is the meeting of the Bank of England, which will take place on Thursday. Given the continuing risks of a worsening economic situation in the country due to the second wave of COVID-19, the British regulator may well hint at its readiness to introduce negative interest rates, as well as expand the quantitative easing program by another 100 billion pounds. If traders' expectations are met, the pressure on the pound will increase, giving GBPUSD sellers the opportunity to bring the pair back to last week's lows at 1.28.
GBPUSD SellLimit 1.3070 TP 1.28 SL 1.3130
Analytical reviews and comments to them reflect the subjective opinion of the authors and are not a recommendation for trading. Author Artem Deev is a trader analyst at AMarkets . The social network of traders is not responsible for possible losses in case of using the review materials