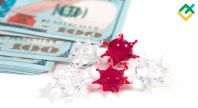 Everything in this world is raging. It would seem that the draft Franco-German agreement on a fiscal stimulus of € 500 billion and the ECB's willingness to continue to do everything possible to save the eurozone economy in spite of an ambiguous decision of the German Constitutional Court will allow the EUR / USD pair to drop their chains and rush north. Moreover, the Bundesbank, on its own initiative, published on its website a positive report on the impact of QE on lending, the manufacturing sector and inflation. Alas, without the support of US stock indices, the euro is not able to grow. Their decline and increased demand for safe haven assets have taken the "bulls" out of the way for the main currency pair.
Buy on rumors, sell on facts. If earlier the S&P 500 was confidently moving north on the expectations of the opening of the American economy, faith in a V-shaped recovery of GDP and a little bit of good news about the creation of a vaccine, now it has become clear that the first factor is already won back, hopes for the second turn into lost illusions, and the timing of the third is vague. Only 10% of global investors surveyed by BofA Merrill Lunch believe in a V-shaped recovery in the US economy. The rest believe that the weakness of the labor market, the reduction in investment, and the enormous fiscal stimulus boosting public debt will slow down economic growth.

Indeed, according to OECD research, rich countries are ready to take on an additional $ 17 trillion of debt, some of which are associated with a reduction in tax revenues due to the pandemic. As a result, the total debt of developed countries will increase from 109% to 137% of GDP.
OECD debt dynamics
Source: Financial Times.

Obviously, without a vaccine, rapid growth in global GDP should not be expected. On the contrary, coronavirus exacerbates pathologies that lead to a deterioration in the health status of the economy. Before the pandemic, the weakness of the latter was manifested in China and the eurozone, affected by trade wars, as well as in monetary policy, which was ultra-soft even without additional incentives. At present, pathologies come to the fore, the situation has worsened, which leads to an increase in demand for safe haven assets. Moreover, the tension in relations between the United States and the Middle Kingdom is increasing. The White House's ban on the purchase of Chinese securities by pension funds, tougher sanctions against Huawei, a mandatory audit of foreign companies traded on American stock exchanges, and Beijing's introduction of a national security law in Beijing suggest an escalation of the conflict.

Pressure on the euro is created by expectations of QE expansion at a meeting of the ECB on June 4. According to the minutes of the April meeting of the Governing Council, the central bank intends to avoid previous mistakes related to the loss of confidence in financial markets, and is ready to increase the volume of asset purchases. He has already acquired € 180 billion worth of securities, and at the current pace, resources will run out by October. It's time to increase firepower. As a result, the EUR / USD pair got stuck in the consolidation range of 1.077-1.099 and risks continuing to peak to support at 1.084.

Analytics and Forex Forecast Dmitry Demidenko LiteForex
Similar articles:
News → The American currency received support from the publication of weak statistics from the eurozone
Articles → Dollar misses poker. Mutual increase in US and EU duties will cost the world economy
Articles → The ECB has cornered the euro. The central bank is not going to refuse negative rates
News → US Dollar Falls After Publication of Consumer Confidence
News → US dollar continues to decline for the third week in a row