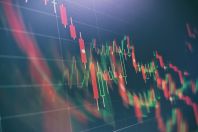 The American stock market is in the red again. During the trading session on Wednesday, the DowJones30 index lost 0.6% and is quoted at 27,200 points. The reason for the correction was the results of the first debate between US presidential candidates Trump and Biden, which increased the risks around the upcoming elections.
Market participants described the past debate as caustic and fierce. Donald Trump dodged the question of whether he would urge his supporters to remain calm and not get involved in any unrest while the post-November 3 elections are counted. Biden suggested that counting the thousands of ballots cast by mail would take some time. Earlier, the American president also noted that remote voting would lead to widespread fraud in favor of Democrats and Biden.
Additional pressure on stock indices was exerted by the deteriorating epidemiological situation in the United States. The proportion of people infected with coronavirus in New York exceeded 3.25%, highlighting the threat of a second wave of infections. The delay by US lawmakers in adopting new fiscal stimulus also worries investors, who fear that the economy will need additional support in the absence of a clear timetable for the vaccine. Despite the fact that Republicans and Democrats of the US Congress are trying to agree on new measures of assistance, House Speaker Nancy Pelosi and Treasury Secretary Stephen Mnuchin previously noted that they were skeptical about the likelihood of reaching an agreement at the current stage. Negotiations must continue today.

DowJones30 decline was also driven by local sales on the oil market. Investors again drew attention to the difficulties that the world economy continues to face amid the consequences of the coronavirus pandemic. Sluggish demand for fuel, along with other economic indicators ranging from consumer confidence to hiring, signals a slowdown in global economic activity after rising in April-June. Given the current sentiment, as well as in the absence of growth factors, the short-term priority may remain with the sellers of the DowJones30 index.

DowJones30 SellLimit 27400 TP 26800 SL 27600
Analytical reviews and comments to them reflect the subjective opinion of the authors and are not a recommendation for trading. Author Artem Deev is a trader analyst at AMarkets . The social network of traders is not responsible for possible losses in case of using the review materials