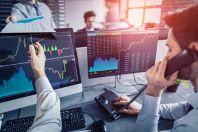 US currency index today is actively trying to recover. C Opening Day Index USD (DXY) gained 0.4% and continued to be quoted at 99.40, maintaining the potential for movement above 100.00.
Support for the dollar have its protective properties, the demand for which has increased with the rapid spread of the pandemic coronavirus infection. According to Johns Hopkins to date in the US research center recorded nearly 190 thousand. Cases new virus, and their number continues to grow rapidly. According to the American President Donald Trump, the next two weeks will be the worst for the US economy, where the number of infected people will reach its peak. It is worth noting that the first signs of the impact of a pandemic on the economy already appear in the statistics. Report Conference Board, released yesterday, showed that the consumer confidence index fell to 120.0 in March from 132.6 in February. Today traders waiting for an even more intense on the fundamental reports trading session. 15: 15 GMT traders attention will be presented to ADP data on the state of the US market. At 17:00 will be released ISM employment index in the manufacturing sector, as well as the ISM index of business activity in the manufacturing sector. Judging by the forecasts, market participants expect weak reports that help assess the extent of US economic disaster.

Apparently, the US is waiting for the disastrous second quarter. According to the forecast Goldman Sachs experts in the second quarter 2020 US GDP growth of 34% y / y, while the unemployment rate by mid-year will increase to 15%. Note that this scenario is more than real, even though the Fed and the US Government's efforts to mitigate the impact of economic recession on the background of the spread of the pandemic. US authorities have certainly slowed down the growth of the US dollar, however, the demand for it will continue to dominate all early in the market, at least as long as the health system crisis caused Covid-19 does not pass its peak. Taking this into account, DXY growth may well continue.

DXY BuyLimit 99,20 TP 102,40 SL 98,60
Analytical reviews and comments reflect the personal opinion of the authors and are not a recommendation to trade. Author trader analyst Artem Deev company AMarkets. Social network Forex Special is not responsible for any losses in the case of the review of materials
Similar articles:
News → Learn How To Make $ 2,000! The fundamental event of the decade!
FOREX FORECAST → How to make money on the Forex today? Trading Ideas traders today 02/13/2020: Good opportunity to profitably sell EURJPY!
News → How much can you earn on forex: Example of last week (September 28 to October 2, 2015) on a pair of EUR / USD?