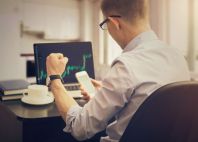 During the trading session on Tuesday, Brent crude oil continues to be quoted near $ 45 per barrel. Traders' sentiment has improved significantly on the background of reports from the Reuters news agency that the largest oil-producing countries of the OPEC + alliance last month fulfilled their agreements to cut aggregate production by 97%. Recall that earlier these measures were intended to neutralize the drop in demand due to the coronavirus pandemic.
It should be noted that the problem of low demand is still relevant for the global economy. Last week, three organizations at once, OPEC, the US Energy Information Administration (EIA), and the International Energy Agency (IEA) lowered their forecast for oil demand until the end of 2020. So, in a monthly report released on Thursday, the IEA announced that it expects a decline in global oil consumption in 2020 by 8.1 million barrels per day to 91.9 million barrels. The OPEC report, released the day before, predicted a more significant decline in demand - by 9.1 million barrels per day to 90.6 million barrels. As for the EIA forecast, according to the agency's analysts, oil demand in 2020 will decrease by 8 million barrels to 93.1 million barrels.
On Monday, the quotes were also supported by increased geopolitical risks after the US government announced the seizure of a cargo of Iranian gasoline transported by tankers to Venezuela. In addition, China's readiness to increase purchases of American hydrocarbons was on the side of buyers. China's state-owned oil companies have pre-booked tankers to deliver 20 million barrels of US oil in August and September.

Investors' attention will now be focused on the upcoming meetings of the technical committee and the OPEC + ministerial committee, which will be held this week. Market participants fear that the real rate of implementation of the agreement to cut production last month may be below 80%. In this scenario, Brent quotes risk being under pressure.
Brent SellLimit 45.60 TP 43.00 SL 46.10

Analytical reviews and comments to them reflect the subjective opinion of the authors and are not a recommendation for trading. Author Artem Deev is a trader analyst at AMarkets . The social network of forex traders is not responsible for possible losses in case of using the review materials
Similar articles:
FOREX FORECAST → How to make money on Forex today? Trading ideas for traders 06/18/2019: The Australian was sent to a protracted peak.
FOREX FORECAST → How to make money for a trader today? Trading ideas 06/04/2019: ERU / USD - there is a chance to sell more expensive
News → Forex - how much can you earn? An example of making money in the foreign exchange market (from October 5 to October 9, 2015) for the EUR / USD pair?
FOREX FORECAST → How to make money for a trader today? Trading ideas 06/13/2019: Oil puts pressure on the "Canadian"
FOREX FORECAST → How to make money in the foreign exchange market today? Trading ideas for traders 06/19/2019 - ECB against expensive euro!