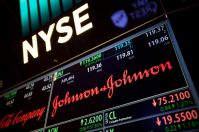 Sitting at home earn on promotions! Trading Ideas in the investment 04/02/2020 JonsonJonson shares (NYSE)
Technical Analysis of Stocks JonsonJonson #JNJ

The general trend downward JonsonJonson shares. Action JonsonJonson company is trading in the range of the upper boundary of the descending price channel. Indicator Stochastic Oscillator signals an overbought stock JonsonJonson. Break of 126.12 will give a mirror layer formation of the descending pattern is 1-2-3 within the overall downtrend.
See stock price JonsonJonson #JNJ online

Trade Idea equity investors JonsonJonson:
Sell shares JonsonJonson below 126.12.
Stop Loss - 134.00.
Target levels - 120.00; 109.33.
Analytics Grand Capital
Analytical reviews and comments reflect the personal opinion of the authors and are not a recommendation to trade. Special Forex shall not be liable for any damages in case of a vision materials.