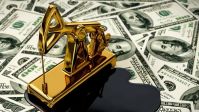 As expected, the euphoria in the hydrocarbon market faded away, provoking a corrective pullback. During the trading session on Thursday, WTI crude oil quotes fell 2.2% and closed the day at $ 60.27 per barrel. The decline continues on Friday. At the time of this writing, the cost of one barrel of oil is $ 59.83.
Earlier, oil was growing amid disruptions in production in Texas due to a sharp cold snap. For the sixth day in this state, record frosts have been observed, which have led to power outages and the shutdown of a number of oil refineries.
This time, even the data on changes in US oil reserves could not support prices. US oil inventories fell 7.3 million barrels to 461.8 million barrels last week, according to a report by the Energy Information Administration. Analysts polled by the Wall Street Journal expected stocks to drop by 2 million barrels from the previous week. Gasoline stocks increased by 672 thousand barrels to 257.1 million barrels, while experts had expected their growth by 1.2 million barrels compared to the previous week. The report also announced a reduction in US oil production by 200 thousand barrels per day to 10.8 million barrels per day. In the coming days, the decline in production may continue due to heavy snowfalls and frosts in Texas. Data from the US Department of Energy also indicated a significant increase in the estimated demand for gasoline by 549 thousand tons.
The pressure on prices will continue to exert fears that the latest rise in the cost of hydrocarbons may lead to a revision of the terms of the OPEC + deal at a meeting on March 3-4. In addition, according to the Wall Street Journal, Saudi Arabia at the same meeting plans to announce the cancellation of the unilateral reduction in production by 1 million barrels. In this scenario, the oil market will face a deeper correction. Considering the above, the decline in oil prices may well continue. We recommend looking at the support of $ 55 per barrel as the next target.

WTI SellStop 59.00 TP 55.00 SL 60.00
Analytical reviews and comments to them reflect the subjective opinion of the authors and are not a recommendation for trading. Author Artem Deev is a trader analyst at AMarkets . The social network of forex traders is not responsible for possible losses in case of using the review materials

The content of this article is the solely private opinion of the author and may not coincide with the official position of the Forex social network Special . The materials published on this page are provided for informational purposes only and should not be construed as investment advice or advice for the purposes of Directive 2004/39 / EC.