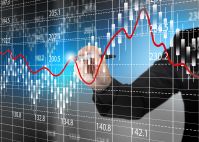 Brent crude oil recovered to $ 41.43 per barrel during the trading session on Thursday, adding about 3% per day. Quotation growth is supported by the ongoing lifting of quarantine measures, as well as a record decline in production by OPEC countries and cartel allies, including Russia.
A decrease in oil production is also observed in the USA. The Energy Ministry's Energy Information Administration (EIA) data released Wednesday showed a decrease in US oil production to 10.5 million barrels per day, whereas earlier this year it reached a record high above 13 million barrels per day. At the same time, commercial oil reserves in the United States for the period June 6-12 increased by 1.2 million barrels to 539.3 million barrels and reached a record high in the history of observations since 1982. Thus, oil reserves were 15% higher than the average 5-year value for this time of year. Analysts polled by the Wall Street Journal expected stocks to grow by 900,000 barrels.
The OPEC Monitoring Committee said Thursday that commitments to reduce production in May were met by 87%. The group confirmed that the agreement to reduce production will be valid until the end of July, and countries that have not fully met the conditions will have to compensate for the lack of decline with an even larger reduction in July. Despite this, many traders are confident that the percentage of fulfillment of the agreement next month against the backdrop of the latest price increase may well be even lower than in May. In addition, concerns about demand remain relevant. According to Johns Hopkins University, more than 12 US states over the past week recorded an accelerated growth in confirmed cases compared to the previous week.

The deterioration of the epidemiological situation is also observed in China, where a new outbreak of the virus forced the Chinese authorities to suspend schools and cancel commercial flights. Investors are concerned that an increase in the number of infected people will finally undermine consumer activity in the country and slow down economic recovery. Thus, the current market situation very much resembles a "tug of war" between buyers who are betting on supply reduction and sellers who are afraid of falling demand. Given that some traders may not want to transfer positions over the weekend, it is likely that fixing deals will increase the chances of sellers to seize the initiative again.

Brent SellStop 41.50 TP 40.00 SL 42.10

Analytical reviews and comments on them reflect the subjective opinion of the authors and are not a recommendation for trading. Posted by Artem Deev Trader Analyst at AMarkets . The social network of traders is not responsible for possible losses in case of using review materials