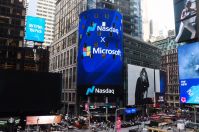 Investing in Microsoft stocks - how to make money? Trading Investment Ideas 20.11.2020 Investors in Microsoft Corp. (NASD)
Microsoft #MSFT stock analysis
The general trend of Microsoft shares is upward. Microsoft stock trades in a range of 365 and 135 moving averages. The descending design of the H1 level is truncated. A Bullish Divergence has formed on the Awesome Oscillator, and the Stochastic Oscillator is signaling oversold.
Microsoft Investor Trading Plan:
Buying Microsoft shares on the formation of an upward wave structure.
Stop Loss - 209.50.
Target levels - 219.00; 225.00.
Analytics Grand Capital
Analytical reviews and comments to them reflect the subjective opinion of the authors and are not a recommendation for trading. Forex Special is not responsible for possible losses in case of using the review materials.
Similar articles:
Investments → Investing in Amazon stocks, trading ideas for investors today 04/15/2019
Investments → Microsoft shares - how to make money for an investor? Trading ideas for investing in Microsoft Corp. (NASDAQ) 09/12/2019
Investments → AMAZON shares how to make money for an investor today? Stock Investing Trading Ideas Amazon.com, Inc. (NASDAQ) 08/23/2019
Investments → How can an investor make money on Amazon stocks, sell or buy? Trading Ideas 08/20/2019 for Investing in Stocks Amazon.com, Inc. (NASDAQ)
Investments → How can an investor make money on AMAZON shares today? Trading Ideas for Investing in AMAZON Stocks 05.06.2019