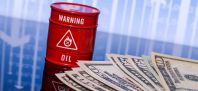 WTI crude oil ended the trading session on Thursday lower, sagging below $ 42 per barrel. The corrective impulse continues today, which increases the likelihood of closing the day in negative territory.

Traders believe that the rise in oil prices could have stalled due to concerns that fuel demand will remain weak for many months or even years due to the negative impact on the global economy of the coronavirus pandemic. The pressure on the quotes could also come from the data, according to which oil reserves in the Cushing terminal, the main US oil storage facility, this week rose to 52 million barrels - the highest level since the end of May.
An additional factor in the decline in prices was the decision of Saudi Arabian Oil Company (Aramco), the state oil company of Saudi Arabia, to cut official selling prices for September. In particular, the September selling prices for Arab Light for Asian consumers were reduced by 30 cents per barrel. Thus, a series of price increases for this region that had lasted for three months in a row was interrupted. It is worth noting that the decline in selling prices was a predictable event, as the relaxation of OPEC + production restrictions could slow down the reduction of excess supply in the global market.

Today the focus of traders' attention is the weekly report of the oilfield services company Baker Hughes on the number of active rigs in the United States. Market participants admit that the increase in oil prices observed in recent weeks could lead to an increase in drilling activity by the American shale companies. In this case, another problem will appear on the hydrocarbon market - an increase in the supply of oil from the United States, which risks increasing the already disturbed balance between supply and demand. Already this month, the growth in world production will exceed demand by 700 thousand barrels per day, in September the discrepancy may be 2 million barrels per day. Considering the above, the correctional dynamics of oil should have all the prerequisites to continue.
WTI SellLimit 42.10 TP 40.10 SL 42.70
Analytical reviews and comments to them reflect the subjective opinion of the authors and are not a recommendation for trading. By trader analyst AMarkets Artem Deev. The social network of traders is not responsible for possible losses in case of using the review materials