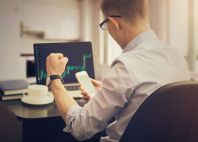 WTI crude oil continues to consolidate around $ 42 per barrel. As before, there remains a high probability that the initiative will finally go to the sellers, as a result of which the price of oil will again fall below $ 40.
The pressure on the quotes at any moment can be exerted by the worsening epidemiological situation in the world. Due to a significant increase in the number of cases, New York authorities announced the suspension of all public schools starting Thursday. Kentucky, Minnesota, Wisconsin and Illinois are closing bars and restaurants, limiting gatherings and tightening requirements for wearing medical masks. The market has become more fearful of weakening demand for hydrocarbons, even despite the recent favorable news about vaccines.
There are 7 days left until Thanksgiving. Experts expect the number of travelers during the holiday season to show a 45% decline from last year's figure. In this scenario, US oil and petroleum product inventories will reach new highs, further fueling the downward rally.

In addition, experts drew attention to the emerging split in OPEC +. As Bloomberg reported, citing anonymous sources from among the official representatives of the UAE, the leadership of this country is critical of its benefits from participating in the alliance and is seriously considering leaving the organization. It is worth noting that the UAE's intentions are quite understandable, given the continued growth in production in countries that are not burdened by the obligations of the OPEC + deal to reduce production. Given the above, traders are interested in whether OPEC + will extend the existing agreements on production cuts at the December 1 meeting or decide to adhere to the previously approved plan, which provides for the relaxation of restrictions on oil production in January. Until then, we recommend holding "short" positions.
WTI SellLimit 42.10 TP 40.00 SL 42.70
Analytical reviews and comments to them reflect the subjective opinion of the authors and are not a recommendation for trading. AMarkets is not responsible for possible losses in case of using the survey materials