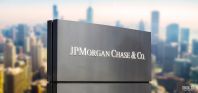 2021 is shaping up well for buyers of shares in the financial holding JPMorgan Chase & Co. Over the past two weeks, JPM.US shares have gained more than 12%, recovering to $ 141. Market participants believe that this is just the beginning and the bank's securities can easily rise in price to $ 160 and more.
JPMorgan Chase & Co. The company's fourth-quarter earnings rose 42% to $ 12.14 billion, or $ 3.79 per share, beating analysts surveyed by FactSet of $ 2.62 per share. The bank earned $ 8.52 billion in profit last year, or $ 2.57 per share. The largest US bank also reported growth in revenue for the 4th quarter of 2020 by 3% to $ 29.22 billion. Analysts had expected this figure at $ 28.67 billion.
It should be noted that the bank managed to increase its profits despite the downturn in the economy and its subsequent uneven recovery. The growth was ensured by operations in the financial markets, where the bank acted as an intermediary in the IPO, and also traded in securities in an environment of increased volatility and renewed indexes of historical highs. In connection with the deteriorating economic situation in 2020, JPMorgan analysts set aside billions of dollars for potential loan losses, some of which, namely $ 2.9 billion, were released only in the 4th quarter. JPMorgan CEO Jamie Dimon noted that "the release of reserves was only possible thanks to the vaccination process started, as well as unprecedented economic stimulus from Governments and central banks."

Recall that at the very beginning of the pandemic, investors were selling shares of JPMorgan and other banks for fear of delays in loan payments. In 2020, JPMorgan is down 9%, while the S & P500 is up 16%. This is the strongest lag of the bank's shares from the index in 30 years. In the short term, JPMorgan shares will continue to be supported by expectations of new fiscal stimulus from Biden's Democratic Party. At the same time, the larger the state aid turns out to be, the more impressive the subsequent bullish rally of JPM.US shares will be.

Analytical reviews and comments to them reflect the subjective opinion of the authors and are not a recommendation for trading. Author Artem Deev is a trader analyst at AMarkets . The social network of forex traders is not responsible for possible losses in case of using the review materials
Similar articles:
Investments → How to make money on INTEL CORP shares today? Trading Ideas for Investors in INTEL CORP Shares 04/08/2019
Investments → How to make money on APPLE shares today? Investors - trading ideas for investing in stocks APPLE Computer Inc 05/13/2019
FOREX FORECAST → How to make money on FACEBOOK promotions today? Investors - trading ideas for investing in FACEBOOK shares 05/10/2019
Investments → How to make money on FACEBOOK promotions? Trading ideas for investors today 09.04.2019 for investing in FACEBOOK stocks
Investments → Today we earn on investments in FACEBOOK shares! Trading Investment Ideas 26.03.2019