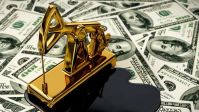 WTI crude oil declines during the trading session on Friday and is quoted at $ 52.43 per barrel. Investors fear that an official report from the Energy Information Administration (EIA) of the US Department of Energy, due on Friday, will indicate an increase in oil reserves for the first time in six weeks. Recall that crude oil inventories have been declining since the beginning of December amid increased production by American refineries, which led to an increase in gasoline and distillate inventories, the demand for which has fallen due to new restrictions and lockdowns. With that said, today's report from the EIA, which will be released at 19:00 Moscow time, may show a slowdown in refinery activity and an increase in oil reserves. Similar expectations are also supported by a report from the American Petroleum Institute published on Wednesday, according to which US oil reserves increased by 2 last week.
Political factors also exert pressure on prices. On the eve, the newly elected US President Joe Biden suspended the issuance of new licenses for oil and gas production for 60 days. It is worth noting that this decision did not come as a surprise, since Biden announced such plans during the election campaign. Meanwhile, the implementation of this moratorium means that Biden has not changed his mind, and still intends to limit the options for US oil producers.
Market participants believe that corrective sentiment in the market may persist until the end of the current day. Nevertheless, as early as next week, the initiative may again go to buyers. Oil prices will continue to be supported by a weakening dollar, as well as hopes that vaccination campaigns launched in many parts of the world can prevent another wave of coronavirus infection and accelerate the recovery of global economic activity. With that said, WTI crude oil prices are still aiming to renew their multi-month high at $ 55.00 per barrel.

WTI BuyLimit 51.50 TP 55.00 SL 50.70
Analytical reviews and comments to them reflect the subjective opinion of the authors and are not a recommendation for trading. Author Artem Deev is a trader analyst at AMarkets . The social network of forex traders is not responsible for possible losses in case of using the review materials

The content of this article is the solely private opinion of the author and may not coincide with the official position of the Forex social network Special . The materials published on this page are provided for informational purposes only and should not be construed as investment advice or advice for the purposes of Directive 2004/39 / EC.