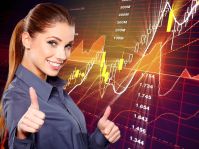 The USD / CAD pair continues to develop bearish dynamics. As a result of the trading session on Wednesday, the US currency dropped 0.4% against the Canadian dollar, closing trading at 1.3252.
The USD / CAD pair is under pressure from a depreciation of the dollar, as well as a recovery in oil prices. Recall that the dollar went down after US President Donald Trump called on Congress to approve the allocation of additional funds to support small businesses amid the pandemic. The White House and the US Congress are currently discussing the formation of a fourth stimulus package to overcome the consequences of the coronavirus. The document provides for the payment of unemployment benefits, assistance to hospitals, assistance to businesses and entire industries. In addition, US citizens will be able to receive one-time payments of about $ 1.2 thousand per person. As soon as this happens, fundamental pressure on the dollar may increase, which will lead to an even greater rise in risky assets.
On the side of buyers of the Canadian dollar, the rise in oil prices also. Brent quotes continue to recover despite the rise in US oil inventories. According to a report by the US Energy Information Administration, US oil reserves in the reporting week rose by 501 thousand barrels to 492.9 million barrels. Total inventory is now 12% above the 5-year average. Market participants believe that the potentially negative effect on quotations of "black gold", which could have caused the data on reserves, was neutralized by concerns about the possible impact on the activity of American oil producers of hurricane "Delta". At the moment, oil and gas workers are massively evacuated from southern platforms and refineries in the United States. As a result, oil production fell by 540 thousand barrels per day, and the volume of gas production at 232 million cubic feet per day. Considering the above, the growth of Brent quotes may well continue, providing the USD / CAD pair with "fuel" for movement below 1.32.

USD / CAD SellLimit 1.3260 TP 1.3150 SL 1.33
Analytical reviews and comments to them reflect the subjective opinion of the authors and are not a recommendation for trading. Written by Artem Deev, a trader analyst at AMarkets . The social network of traders is not responsible for possible losses in case of using the review materials