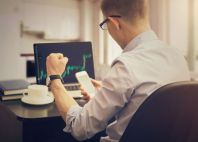 The European currency continues to decline against the US dollar on Wednesday. By 11:00 Moscow time, the EUR / USD pair is quoted at 1.1685, under pressure from increased concerns about the negative impact on the European economy of the second wave of the coronavirus pandemic.
One of the most famous universities in Paris, the University of Sians-Po, is closed today. There, the virus was found in 23 students at once. About a hundred educational institutions across France are now under quarantine due to the coronavirus. From today in France, 13 more departments have been declared a red zone. Switzerland, Belgium, Germany, Great Britain have also introduced mandatory quarantine for everyone who comes from abroad. The worst situation is in England. Since Thursday, there are restrictions on opening hours for bars and restaurants, as well as on the maximum number of people who get together. In the areas of tourism and trade, recommendations on measures to combat coronavirus will become "legal obligations", in case of violation of which a fine will be issued.
The euro is also under pressure from the dollar recovery. The USD (DXY) index has already exceeded 94 points and is trading at 94.12. The result of yesterday's speech by the head of the US Federal Reserve Jerome Powell was the announcement that the Fed has established a "Main Street Lending Program (Main Street)", which will support small and medium-sized businesses that were in good shape before the COVID-19 pandemic. Within the framework of the program, a fund (SPV) for $ 600 billion will be created with the aim of issuing loans to controlled enterprises.

Further dynamics of EUR / USD will depend on the development of the situation with COVID-19 in the Eurozone, as well as the decision of the American Congress regarding measures to further stimulate the US economy. Market participants believe that once the new fiscal stimulus package is approved, the dollar will come under pressure, which will support the euro. This may happen before the end of this week.
EUR / USD BuyStop 1.1730 SL 1.1690 TP 1.1850
Analytical reviews and comments to them reflect the subjective opinion of the authors and are not a recommendation for trading. Author Artem Deev is a trader analyst at AMarkets . The social network of forex traders is not responsible for possible losses in case of using the review materials