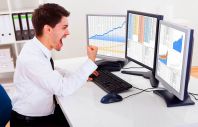 Today traders' attention is focused on the EURUSD pair and its reaction to the results of the meeting of the European Central Bank, which will be summed up at 14:45 Moscow time. EURUSD last week tested the 1.20 resistance, followed by a sell-off and a decline to the 1.1750 area. Market participants associate such dynamics with a logical desire of traders to fix the result of previously opened "long" positions on the eve of the ECB meeting. Nevertheless, investors fully admit that the results of the meeting, as well as the rhetoric of the regulator, may become the next catalyst for the "bullish" dynamics of the euro. This assumption is supported by yesterday's sudden rise in EURUSD, which recovered more than 50 points in just a few minutes. This was facilitated by the appeared insider about
Today the euro against the dollar continues to be quoted slightly above 1.18, at 1.1820, maintaining the potential for further growth. The euro is supported by expectations of a speech by the head of the European regulator Christine Lagarde, which may shed light on the ECB's plans to stimulate the region's economy.

Most of all traders are interested in the bank's statements regarding the current euro exchange rate and its impact on the export of the entire European region. Earlier, the comments of the senior economist of the ECB Philip Lane about the high exchange rate had a negative impact on the quotes of the euro. The main question is: "Will the head of the ECB Christine Lagarde and her colleagues develop this idea?"

The ECB may also follow the lead of the US Federal Reserve. Obviously, the ECB will find it increasingly difficult to resist the temptation to switch to medium inflation targeting, as the Fed did, since the regulator is unlikely to be able to bring inflation in the Eurozone to the target level in the medium and longer term. If the ECB confirms its readiness for additional stimulation of the economy, this may have a positive effect on the further recovery of the currency block and, thereby, support the euro.

EURUSD BuyLimit 1.1750 TP 1.1950 SL 1.1710

Analytical reviews and comments to them reflect the subjective opinion of the authors and are not a recommendation for trading. The author is a trader analyst at AMarkets Artem Deev. Forex social network is not responsible for possible losses in case of using the review materials