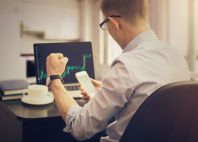 The USD (DXY) index during the trading session on Thursday is declining and is quoted at 93.75 points. The sales of the American currency have been going on for the fourth day in a row. The pressure on the dollar intensified after the release of strong data from the United States, as well as amid hopes for the approval of a new package of fiscal stimulus designed to mitigate the impact of the economic downturn amid the second wave of coronavirus infection. US Treasury Secretary Stephen Mnuchin told reporters on Wednesday that talks with House Speaker Nancy Pelosi on additional stimulus measures have made progress. At the same time, in an interview with Fox Business News, Mnuchin said that he would not accept the $ 2.2 trillion aid package proposed by the Democrats, rather closer to $ 1.5 trillion, while he added that an agreement had already been reached on direct payments to Americans ...
The data on the state of the American labor market published the day before could not support the dollar. Thus, the ADP report on employment in the private sector showed an increase of 749 thousand jobs in September after an increase of 481 thousand over the previous period. Analysts had expected the index to rise by 650 thousand. It is possible that the positive statistics from ADP was partially offset by news of large-scale layoffs at Walt Disney and Shell. Disney Corporation announced 28 thousand job cuts, while Shell oil company intends to lay off almost 9 thousand of its employees.

The results of the first debate between US President Donald Trump and former Vice President Joe Biden also contributed to the depreciation of the American currency. Both politicians noted that delays in the counting of votes cast by mail, as well as rigging due to remote voting, are almost inevitable in the upcoming elections. Such comments only increased the political uncertainty in the country, which remains one of the key factors holding back the growth of the American currency. Today traders will be presented with data on claims for unemployment benefits, personal income and expenses, as well as activity in the US manufacturing sector from ISM. Another portion of weak data may worsen the growth prospects of the American economy, which will put additional pressure on the dollar.

DXY SellLimit 94.10 TP 92.50 SL 94.60
Analytical reviews and comments to them reflect the subjective opinion of the authors and are not a recommendation for trading. Author Artem Deev is a trader analyst at AMarkets . The social network of forex traders is not responsible for possible losses in case of using the review materials