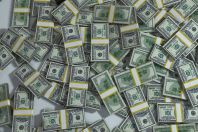 The current week is going pretty well for the buyers of the US dollar. The USD (DXY) index was able to offset some of its recent losses and recovered to 93.50.
The US currency continues to be supported by sales on the US stock market. Tech stocks, which rose earlier this year as the main driver of the market's bullish rally, are now the main reason for the market crash. The rise in geopolitical tensions between the US and China is also helping to strengthen the dollar. Donald Trump said at a press conference on Monday that he is seriously considering breaking ties with China and has no plans to return outsourced jobs to the United States. Recall that the trade conflict between the two leading powers of the world has been going on for many years, the main disagreements between the parties relate to technology, security and jobs.
Local statistics are on the side of dollar buyers. The index, which tracks US employment trends, rose for the fourth straight month in August, on the back of continued job recovery. According to a report published on Tuesday by the Conference Board, the employment trends index in August was 52.55 points against the revised with an increase of 51.37 in July.
Further dynamics of the dollar index will depend on the reaction of traders to the results of the Fed meeting next week, as well as to the discussion of new measures of fiscal stimulus by the US Congress, which will resume immediately after the House of Representatives starts working after the holidays on September 15. Considering that in both cases we will talk about additional stimulation of the economy, the dollar may decline again.
DXY SellLimit 93.80 SL 94.30 TP 91.90
Analytical reviews and comments to them reflect the subjective opinion of the authors and are not a recommendation for trading. Author Artem Deev is a trader analyst at AMarkets . Forex social network is not responsible for possible losses in case of using the review materials