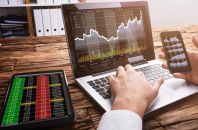 The American currency is actively declining during the trading session on Tuesday. The USD (DXY) index has lost 0.13% since the opening of the day and is quoted at 90.50.
The dollar sell-off has intensified on expectations that Janet Yellen, whom US President-elect Joe Biden is proposing to take over as Treasury Secretary, will urge US lawmakers to take stronger fiscal stimulus measures to stave off a prolonged economic downturn. Yellen's performance will take place today at 6:00 pm Moscow time. According to the prepared text of the speech, Yellen intends to focus the attention of congressmen on the risks of a longer and more painful recession if Congress does not approve additional measures to support the economy. Market participants note that, commenting on the policy towards the dollar, Yellen is likely to choose a neutral tone, since there is practically no benefit in verbal manipulation of the national currency rate before she heads the Ministry of Finance.
Recall that the new package of fiscal stimulus for $ 1.9 trillion proposed by Biden last week. provides for another round of direct incentive payments, extending and increasing the payment of unemployment benefits, funding educational institutions and emergency services, and creating a nationwide vaccination program. The proposal also contains long-term priorities for the Democratic Party, such as raising the minimum wage to $ 15 an hour and increasing paid vacation time. Biden's inauguration will take place tomorrow, and his first major task as president will be to agree on this program of state aid with Congress.
With that said, the Democrats' rise to power in the United States actually marks the beginning of a long-term period of weakness in the US dollar. According to forecasts of experts from a number of investment banks, in 2021, the US dollar rate against the background of an unprecedented economic policy in terms of incentives may fall by more than 5%.

DXY SellStop 90.30 TP 89.00 SL 90.70
Analytical reviews and comments to them reflect the subjective opinion of the authors and are not a recommendation for trading. Author Artem Deev is a trader analyst at AMarkets . The social network of forex traders is not responsible for possible losses in case of using the review materials

The content of this article is the solely private opinion of the author and may not coincide with the official position of the Forex social network Special . The materials published on this page are provided for informational purposes only and should not be construed as investment advice or advice for the purposes of Directive 2004/39 / EC.