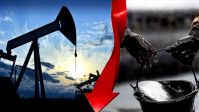 The oil market continues to recover. Following the trading session on Monday, WTI crude oil rose by 6.2%, closing the day at $ 32.35 per barrel. As before, prices continue to be supported by increased demand amid softening of the quarantine measures used to curb the spread of the COVID-19 pandemic, as well as a decrease in oil supply due to the efforts of key oil producing regions that comply with the obligations of the new energy pact.
The agreement of the OPEC + countries entered into force on May 1, in accordance with it, the countries of the alliance agreed to reduce production by 9.7 million barrels per day. Russia and Saudi Arabia, according to the agreements, have committed themselves to reduce oil production by equal shares - 2.5 million barrels per day. The agreement is designed for two years, but from July to December 2020 the reduction will be reduced to 7.7 million barrels per day, and from January 2021 to the end of April 2022 - 5.8 million barrels per day. The optimism of investors is also supported by the intentions of Saudi Arabia, the UAE and Kuwait to further reduce production in June by 1.2 million barrels per day.
On the side of buyers and reduced production in the states. According to data released on Friday by Baker Hughes, the number of active oil rigs in the US over the past week decreased by 34 units to 258. Thus, since the end of March, the total number of rigs has decreased by 60%, which indicates the largest reduction in this indicator in history observations.

Today, market participants will be waiting for the expiration of the June contracts, which will occur after the close of the session. Recall that the May WTI oil contracts, which were experimented on April 20, for the first time since 1983 ended up in negative territory, closing at $ -37.63 per barrel. Since oil futures, after expiration, have moved into the category of delivery futures, the buyer must physically accept the goods. And there was nowhere to take it in May due to the lack of free storage space amid an overabundance of offers. Given the continuing problem of overstocking warehouses, by the end of today WTI quotes may again face aggressive sales.
WTI SellStop 30.80 TP 26.10 SL 31.80
Analytical reviews and comments on them reflect the subjective opinion of the authors and are not a recommendation for trading. Posted by Artem Deev Trader Analyst at AMarkets . The social network of forex traders is not responsible for possible losses in case of using review materials