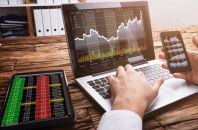 WTI crude oil ended Thursday's trading session in positive territory, recovering to an 11-month high of $ 53.73 a barrel. The spread of COVID-19 vaccines continued to support prices, and hopes that the fiscal stimulus package proposed by the administration of President-elect Joe Biden will boost demand for the commodity.
It should be noted that American oil prices have been holding above the $ 50 mark for more than a week. Traders are monitoring the dynamics of Chinese oil imports, forecasts of global oil demand, as well as a decrease in oil reserves in the United States amid the continuing increase in the incidence of COVID-19. Oil imports to China in December reached a 27-month low of 9.096 million barrels per day, which is an alarming signal for the global market.
Earlier, OPEC in its monthly report left the forecast for oil demand in 2021 unchanged compared to the December estimate. The cartel expects oil demand to recover only partially, to 9.8 million barrels per day after falling in 2020 due to the coronavirus pandemic. At the same time, production in OPEC countries in 2021 will amount to 27.2 million barrels per day against about 25.6 million barrels per day by the end of 2020. The projected growth will be a consequence of the announced increase in production in the countries participating in the energy pact, as well as in Libya. Recall that the latest agreement under OPEC + also assumes an increase in production in Russia and Kazakhstan by 500 thousand barrels per day in February - March 2021. In 2022, oil production may increase by another 1.1 million barrels per day.

The further dynamics of oil may be affected by market concerns about the prospects for a global economic recovery against the background of the still high spread of coronavirus infection. In the event that another record in the number of cases is recorded in the United States next weekend, local sales of oil during the Asian session on Friday may well develop into a more significant correction next week.
WTI SellLimit 53.50 TP 50.00 SL 54.10
Analytical reviews and comments to them reflect the subjective opinion of the authors and are not a recommendation for trading. Author Artem Deev is a trader analyst at AMarkets. The social network of forex traders is not responsible for possible losses in case of using the review materials