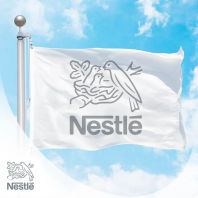 Buy or sell shares, how can an investor make money today? Trading Ideas for Investing 08/07/2020 in Nestle SA (SIX) Shares
Nestle #NESN stock analysis
The general trend of Nestle shares is upward. The descending structure is truncated. The Awesome Oscillator shows a Bullish divergence, and the Stochastic Oscillator signals that Nestle shares are oversold.
Nestle SA (SIX) #NESN stock price online
Trading idea of ​​investment in Nestle SA (SIX) shares:
Investors buy Nestlé SA (SIX) shares on the formation of an upward wave structure, where the wave (aC) breaks through the inclined channel of the descending truncated structure of the H1 level.
Stop Loss - 106.86.
Target levels - 110.00; 112.07.
Analytics Grand Capital
Analytical reviews and comments to them reflect the subjective opinion of the authors and are not a recommendation for trading. Forex Special is not responsible for possible losses in case of using the review materials.
Similar articles:
Investments → How to make money on FACEBOOK promotions? Trading ideas for investors today 09.04.2019 for investing in FACEBOOK stocks
Investments → How to make money on APPLE shares today? Investors - trading ideas for investing in stocks APPLE Computer Inc 05/13/2019
Investments → Today we earn on investments in FACEBOOK shares! Trading Investment Ideas 03/26/2019
FOREX FORECAST → How to make money on FACEBOOK promotions today? Investors - trading ideas for investing in FACEBOOK shares 05/10/2019
Investments → How to make money on INTEL CORP shares today? Trading Ideas for Investors in INTEL CORP Shares 04/08/2019