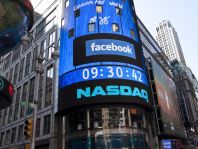 How to make money on FACEBOOK stock investor? Trading Ideas for Investment on 06/30/2020 in FACEBOOK Inc. Stocks (NASDAQ)
FACEBOOK Inc. Stock Analysis (NASDAQ) #FACEBOOK

The general trend of FACEBOOK stocks is upward. Breaking through the mirror level of 220.70 will give the formation of an upward 1-2-3 pattern, within the framework of a general uptrend. The Stochastic Oscillator indicator signals oversold FACEBOOK stocks.
Where to watch #FACEBOOK stock prices

FACEBOOK stocks trading idea:
Investors should buy FACEBOOK shares Above a mirror level of 220.70.
Stop Loss - 209.00.
Target levels - 231.50; 240.58
Grand Capital Analytics
Analytical reviews and comments on them reflect the subjective opinion of the authors and are not a recommendation for trading. Forex Special is not responsible for possible losses in case of using review materials.
Similar articles:
Investments → How to make money on FACEBOOK shares? Trading ideas for investors today 04/09/2019 for investments in FACEBOOK shares
Investments → Today we earn on investments in FACEBOOK shares! Trading investment ideas 03/26/2019
Investments → How to make money on INTEL CORP shares today? Trading ideas for investors in INTEL CORP stocks 04/08/2019
FOREX FORECAST → How to make money on FACEBOOK shares today? For investors - trading ideas for investing in FACEBOOK stocks 05/10/2019
Investments → How to make money on APPLE shares today? Investor Relations - APPLE Computer Inc Stock Trading Ideas May 13, 2019