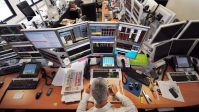 The EUR / USD pair remains under pressure during the trading session on Thursday. Since the opening of the day, the European currency has dropped 0.36% against the US dollar, sagging to 1.17.
The deteriorating epidemiological situation in the world remains the key factor of pressure on the main currency risk. France and Germany on Wednesday introduced new restrictions on the work of enterprises and public institutions. To limit the spread of the infection, restaurants, bars and some shops have been closed for several weeks. The heads of both countries seek to mitigate the economic impact of these restrictions: in particular, they said that factories and schools will continue to operate. It is worth noting that the announced restrictions on economic activity in the 4th quarter could cost Germany's GDP almost 1%, provided that they are lifted at the end of November. In turn, the one-month strict quarantine announced in France could lead to a 3-4% reduction in French GDP in the 4th quarter.
The euro was also affected by the results of the ECB meeting. Recent events around the rapid spread of coronavirus infection in Europe have led to a softer rhetoric from the regulator. In particular, the bank's management signaled its readiness to adjust monetary policy to ensure the favorable financing conditions needed to support the economic recovery and counter the negative impact of the pandemic on consumer activity. The Governing Body will continue purchasing under the Pandemic Procurement Program (PEPP) totaling € 1.350 billion. Recall that this program contributes to the easing of the general monetary policy, thereby helping to offset the downward impact of the pandemic on the projected trajectory of inflation.

The soft rhetoric of the ECB has increased the pressure on the euro, which in the current environment can only be saved by a potential weakening of the dollar against the backdrop of a new package of fiscal stimulus from the US Congress. If US lawmakers choose to postpone the decision on the new stimulus until after the presidential election, the EUR / USD pair risks falling to the 1.16 region.

EUR / USD SellStop 1.1690 TP 1.16 SL 1.1730
Analytical reviews and comments to them reflect the subjective opinion of the authors and are not a recommendation for trading. Author Artem Devv is a trader analyst at AMarkets . The social network of traders is not responsible for possible losses in case of using the review materials