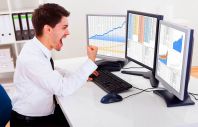 The bullish rally of the GBPUSD pair continues. During the trading session on Thursday, the British currency has renewed its maximum since the beginning of March at 1.3182 against the dollar, having received support from the results of the meeting of the Bank of England.
As expected, the Bank of England decided to leave its key interest rate unchanged, saying that the UK economy will recover from the effects of the pandemic until the end of next year. The Monetary Policy Committee unanimously decided to keep the key interest rate at 0.1% and the target for the asset purchase program at £ 745 billion. The bank's management believes that UK GDP contracted by about 20% in the second quarter, since it was during this period that the general isolation and quarantine regime was introduced to contain the spread of coronavirus. For comparison, the economy of the Eurozone in the same period fell by 12%, and the US by 9.5%.
The Bank of England also noted that the pace of recovery of the national economy will entirely depend on the situation around the COVID-19 pandemic. The British regulator expects that over the next year the economy will experience a significant underutilization of capacities, inflation will remain below the target level of 2%, which means that there is no immediate need to adjust the monetary policy. In addition, the bank's management expressed doubts that negative interest rates are an effective stimulus given the risks associated with them for the profits of banks, which are already suffering significant losses due to the pandemic. The bank's emphasis on the fact that there may not be a further rate cut has become the main trigger for the growth of the GBPUSD pair. Previously, market participants admitted
A weak dollar is also on the side of the pound buyers. To all appearances, the US Congress this week will not agree on a new package of fiscal stimulus, without which further recovery of the American economy is unlikely. Against this background, dollar sales may well continue.

GBPUSD BuyLimit 1.3090 TP 1.3250 SL 1.3040
Analytical reviews and comments to them reflect the subjective opinion of the authors and are not a recommendation for trading. The author is a trader analyst at AMarkets Artem Deev. The social network of forex traders is not responsible for possible losses in case of using the review materials