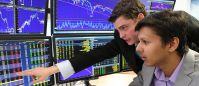 The USDCAD pair continues to decline during the trading session on Wednesday. By 11:00 Moscow time, the US currency is quoted at 1.36 against the Canadian dollar.

US authorities have decided to maintain restrictions on movement between the US and Canada, which may put additional pressure on the Canadian economy. Media reported that Canada and the United States will extend the travel ban, which was introduced to limit the spread of coronavirus. Recall that the prohibition does not restrict the movement of goods, but affects tourism and other areas.
Today, the focus of traders is the meeting of the Bank of Canada, which will be held at 17:00 Moscow time. Earlier, the Government of Canada decided on measures of direct support to the economy by 212 billion Canadian dollars, and the Bank of Canada since March lowered interest rates to a record low of 0.25%. The Bank of Canada is expected to leave rates unchanged today. Investors are likely to focus on the bank's assessment of economic prospects and potential plans for additional monetary stimulus. Market participants admit that the Canadian regulator, against the backdrop of a worsening situation with the coronavirus, may hint at a willingness to introduce negative rates, as well as an increase in the quantitative easing program. In this scenario, the USDCAD pair will be able to recover.
The reason for the decline in the Canadian dollar exchange rate may also be a correction in the oil market. Today will be a meeting of OPEC +. According to earlier information, Russia and Saudi Arabia plan to increase oil production starting in August. In particular, Saudi Arabia may offer other OPEC + participants to soften the terms of the current energy pact by cutting production in August not by 9.7 million barrels per day, but by 7.7 million. It is worth noting that the decision of the energy alliance to increase oil production by 2 million barrels can be regarded as a "bearish" signal for the entire hydrocarbon market, since it poses a risk of re-formation of excess supply.

USDCAD BuyLimit 1.3560 TP 1.37 SL 1.3510
Analytical reviews and comments on them reflect the subjective opinion of the authors and are not a recommendation for trading. Posted by Artem Deev Trader Analyst at AMarkets . The social network of traders is not responsible for possible losses in case of using review materials