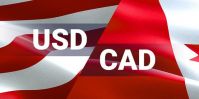 The USDCAD pair fell on the basis of Thursday's trading session and, having lost about 0.3%, ended the day at 1.3971. The decline continues on Friday.
The Canadian currency strengthens against the dollar even despite sales in the oil market, as well as the release of weak data on the state of the Canadian labor market. The National Bureau of Statistics Canada on the eve reported that the number of jobs in March fell by 1.011 million, adjusted for seasonal fluctuations. Unemployment in Canada for the same month jumped to 7.8% compared to 5.6% in previous months. Recall that the unemployment rate in Canada remained below 6% for 18 consecutive months. The March fall in the number of jobs significantly exceeded the previous record for the monthly reduction recorded in January 2009 at the peak of the global recession, when the economy lost 125 thousand jobs. Thus, the fall in the labor market in just one month completely offset the growth in jobs that has been observed for several years.
Traders ignored not only weak statistics, but also the decline in oil prices - one of Canada's main export resources. In particular, Brent crude oil ended the trading session on Thursday at $ 31.73 per barrel, losing about 6% per day. As it became known, OPEC + countries agreed to reduce production by 10 million barrels per day in May and June. In the following period, from July to December, the reduction will be 8 million barrels per day, then 6 million barrels per day from January 2021 to April 2022. It is known that Saudi Arabia and the Russian Federation will limit their production to 8.5 million barrels per day. day. It is worth noting that against the background of the agreement, oil quotes could well have developed recovery dynamics, however, market participants drew attention to the fact that even a joint decrease in production by 10 million. barrels will still not be enough to solve the problem of excess supply. With that said, the USDCAD pair retains upside potential.

USDCAD BuyStop 1.3990 TP 1.4180 SL 1.3940

Analytical reviews and comments on them reflect the subjective opinion of the authors and are not a recommendation for trading. Posted by Artem Deev Trader Analyst at AMarkets. The social network of traders is not responsible for possible losses in case of using review materials