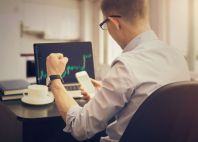 The pair GBPUSD during the trading session on Wednesday shows a flat dynamics, trading in the range of 1.2700-1.2730. The day before, the British currency updated its June high against the US dollar, practically testing the resistance of 1.28. The growth of the pound was promoted by the general market optimism, the reason for which was the approval of the European program to support the economy in the amount of 750 billion euros. 390 billion euros from this fund will be distributed in the form of grants, and the remaining 360 billion - in the form of loans. The funds from the fund will be used to overcome the unprecedented economic downturn triggered by the coronavirus pandemic. In addition to the recovery plan, the EU countries have also approved a multi-year EU budget of over € 1 trillion.
The "bullish" activity of the British currency subsided only at the end of yesterday's trading day after information appeared in the financial markets that the UK and the EU are unlikely to have time to agree on a trade agreement before the end of the summer. Analysts believe the process could drag on until the end of the year, when the Brexit transition deadline expires. In this scenario, England will have to leave the EU on "tough" terms with the loss of access to the single European and customs markets.

Investors do not expect interesting drivers from the UK today, so the pound is likely to continue to be quoted with a slight decline, correcting from yesterday's highs. The situation may change on Friday, when the data on business activity in the manufacturing and services sectors will be presented to the attention of traders. If the statistics disappoint, which is more than likely, talk about new measures of monetary stimulus from the British regulator will return to the market. Let's remind that according to the latest comments of the Governor of the Bank of England Bailey, the regulator's management still allows the rate to be cut into negative territory. Considering the above, we recommend considering the possibility of selling the GBPUSD pair, but only after retesting the resistance of 1.27.
GBPUSD SellLimit 1.2720 TP 1.2450 SL 1.2790
Analytical reviews and comments to them reflect the subjective opinion of the authors and are not a recommendation for trading. Author Artem Deev is a trader analyst at AMarkets . The social network of traders is not responsible for possible losses in case of using the review materials