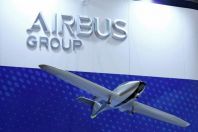 How can an investor make money on investments in shares? Trading investment ideas 10.09.2020 shares of Airbus Group (EURONEXT)
Airbus Group #AIR stock analysis

The general trend for shares of Airbus Group is upward. The Airbus Group share is trading in a range of 365 and 135 moving averages. The Stochastic Oscillator indicator signals oversold conditions. A breakout of 70.18 will result in the formation of an upward 1-2-3 pattern.
See course shares Airbus Group (EURONEXT) #AIR online

Airbus Group (EURONEXT) Investment Idea:
Investors purchase of Airbus Group (EURONEXT) shares Above 70.18.
Stop Loss - 66.85.
Target levels - 73.91; 75.87
Analytics Grand Capital
Analytical reviews and comments to them reflect the subjective opinion of the authors and are not a recommendation for trading. Forex Special is not responsible for possible losses in case of using the review materials.