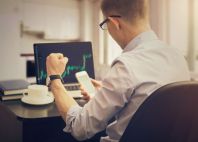 The most profitable transaction of the last week's trader was the purchase of CFDs on the #Bitcoin cryptocurrency. The trader earned 16.07% in 3 trading days or $ 1478.80, opening a long position of 1.1 lots and catching a positive correction of the asset.

Buying #Bitcoin on 05/11/2020 at 21:21 EET at the price of $ 8364.98,
For sale #Bitcoin 05/14/2020 at 17:23 EET at the price of $ 9709.34
On currency trading transactions, the most profitable purchase was EURNZD. The trader opened a long position, determining the beginning of an uptrend with a volume of 2.3 lots and after 4 days earned 2.88% or $ 6959.39.

Selling EURNZD 05/11/2020 at 04:39 ET at a price of 1.7639,
Buying EURNZD 05/15/2020 at 15:31 ET at a price of 1.81472.
Based on AMarkets
Similar articles:
Articles → Forex - how much a trader earns. Example of a profitable trade for AMarkets trader for the week of December 17-21, 2018
Articles → How much a trader earns
Articles → How much can a forex trader earn? Example of a profitable trade for AMarkets trader for the week of November 26-30, 2018
Articles → Forex Trading: Professional Traders
Articles → Forex - how much can you earn? Example of a profitable Forex trade for AMarkets trader for the week December 31, 2018 - January 4, 2019