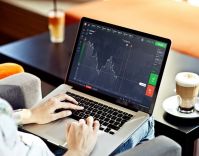 The most profitable deal of the past week was the trader's transaction for the purchase of WTI crude oil. The trader earned $ 10,600 in one trading day.

Buy WTI 05/04/2020 at 03:10 at a price of 21.08.
WTI for sale 05.05.2020 at 22:19 at the price of 26.38.
The second profitable deal was the sale of the euro currency in the EURUSD pair. Forex trader at AMarkets sold the euro in a short position and earned $ 8,072 in 3 trading days.

Sell ​​EUR / USD 05/04/2020 at 00:06 at the price of 1.09714.
Buying EUR / USD 05/07/2020 at 17:02 at the price of 1.07696.
Based on AMarkets
Similar articles:
Articles → How much can a forex trader earn? Example of a profitable trade for AMarkets trader for the week of November 26-30, 2018
Articles → How much a trader earns
Articles → Forex Trading: Professional Traders
Articles → Forex - how much can you earn? Example of a profitable Forex trade for AMarkets trader for the week December 31, 2018 - January 4, 2019
Articles → Forex - how much a trader earns. Example of a profitable trade for AMarkets trader for the week of December 17-21, 2018