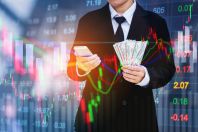 EURUSD continues to trade at its highs since 2018, consolidating near the 1.16 resistance. Interest in the European currency is fueled by the results of the EU summit in Brussels, during which the leaders of European countries agreed on a fund to help the EU regions most affected by the pandemic, totaling 750 billion euros. On Wednesday, July 22, the euro broke the 1.16 mark against the US dollar for the first time since September 2018, gaining almost 1.5%. Compared to the lows shown in April, the European currency has risen in price by 8.5%.
Markets welcomed the agreement with enthusiasm, as its format implies that countries affected by the pandemic will be able to receive grants and cheap loans. In addition to expectations that another shot of free liquidity will help the European economy to quickly embark on the path of economic recovery, the willingness of the EU countries to find common ground was taken as a signal that the threat of the collapse of the euro area is no longer there.
According to the structure, out of the total amount of the fund, 390 billion euros will be distributed in the form of non-repayable grants, and the remaining 360 billion in the form of loans at low interest rates. Italy (2.5% of GDP) and Spain (3.5% of GDP), as well as Greece, Portugal and Cyprus, will receive the maximum assistance.
In addition, in accordance with the agreement reached, the EU countries will begin to place joint debt obligations, which over time may become an alternative to US government bonds as a defensive asset. In the long term, this could increase demand for the euro from central banks, as well as reduce the share of the dollar in international reserves to the levels of the 1990s.

Market participants believe that by the end of this year, the European currency against the dollar has very good chances to rise above the level of 1.20, which could be facilitated by the stimulating policy of the Fed, which continues to pump liquidity in the US markets. The forecast that against the backdrop of new fiscal stimulus, the euro will rise, and not the dollar, associated with expectations of a faster economic recovery in the Eurozone, and not the United States, where the coronavirus pandemic continues to rage, and the presidential election is also coming.
EURUSD BuyLimit 1.1520 TP 1.1850 SL 1.1450
Analytical reviews and comments to them reflect the subjective opinion of the authors and are not a recommendation for trading. Author Artem Deev is a trader analyst at AMarkets . The social network of traders is not responsible for possible losses in case of using the review materials