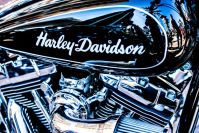 How to make money on Harley - Davidson promotions! Trading Investment Ideas 10/22/2020 Harley Investors - Davidson Inc. (NYSE)
Shares the analysis of Harley - Davidson #HOG

The resistance level of 29.50 is holding back buyers of Harley-Davidson shares. An ascending truncated structure has formed. The Awesome Oscillator shows a Bearish divergence, while the Stochastic Oscillator signals overbought.
Harley - Davidson Inc #HOG promotions online

Harley - Davidson Inc stock trading idea:
Investors sell Harley - Davidson Inc shares on the formation of a downward wave structure, where wave (A) breaks through the inclined channel of the ascending truncated structure of the H1 level.
Stop Loss for the resistance level of 29.50.
Target levels - 27.20; 22.80
Analytics Grand Capital
Analytical reviews and comments to them reflect the subjective opinion of the authors and are not a recommendation for trading. Forex Special is not responsible for possible losses in case of using the review materials.
Similar articles:
Investments → How can an investor make money by investing in Rosneft shares? Trading Ideas Today 03/21/2019
Investments → Sberbank shares - how to make, sell or buy? Trading ideas for investments in Sberbank shares 08/07/2019
Investments → How to make money on investments: Review of investment accounts Alfa Forex for October
Investments → Shares of Rosneft - how can an investor make money today? Trading ideas for investing in Rosneft shares 05/22/2019
Investments → How to make money on investments in Magnit shares today? Trading ideas for investors 04/22/2019