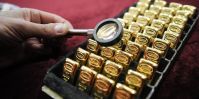 At the Asian session on Wednesday, gold was trading as part of a downward technical correction, after updating highs since 2012. There are no fundamental prerequisites for reducing the cost of gold. On the contrary, all factors indicate the further development of a long-term bull trend. A local decline in quotes is caused by a partial fixation of long speculative positions after updating a multi-year high of trades.

The prospects for the development of the global economy look terrible. According to the IMF, the world economy has already entered the stage of recession. In 2020, the decline in global GDP may exceed 3%. According to the IMF chief economist, the decline will be more severe than during the 2008 financial crisis. To maintain national economies, the Central Bank continues to increase liquidity in the market, which creates ideal conditions for the development of the bull trend for gold and updating the historical maximum of trading in the long term.
The start of the US corporate reporting season confirms that companies will suffer serious financial losses. JPMorgan Chase and Wells Fargo have shown a sharp decline in profit for the 1st quarter and have reserved billions of dollars to cover potential credit losses. Obviously, the economic situation in the United States and around the world will only worsen.

Today, the March report on US retail sales and industrial production data for the same period will be in the spotlight on the economic calendar.

On the chart, the long-term bull trend remains relevant. Locally, we see the development of a retreat from the level of 1745.00. You can expect the resumption of upward movement from the level of 1710.00. If this mark is broken, the next target for XAUUSD correction will be the level of 1688.00.

XAUUSD resistance levels: 1725.00, 1745.00, 1760.00;
XAUUSD support levels: 1710.00, 1688.00, 1645.00.
The main scenario is the resumption of upward movement from the level of 1710.00.
An alternative scenario is a breakdown of support at 1710.00 and a decrease in XAUUSD to 1688.00.

The fundamental background is positive. XAUUSD purchases remain a priority. Entry points should be sought at the levels of 1710.00 and 1688.00.
Gold analytics and forecast XAUUSD FORTFS