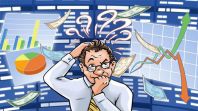 Forex forecast EURUSD for today 06/22/2020

The mixed dynamics of the interbank lending market in New York and London does not allow the euro to reach its full potential. In New York last Friday, a repo auction was not held, because commercial banks did not submit applications for refinancing to the Federal Reserve. If in the first half of the month bankers willingly took loans from the Fed, now there are no applications. This factor indicates the absence of problems with dollar liquidity, which is positive for the euro. In London, there has been an increase in overnight rates on dollar loans, which indicates liquidity problems, and this factor does not allow the European currency to demonstrate a good trend. What to do in this situation? In my opinion, the problems on the European interbank market are short-term, since the Fed controls the situation and will not allow imbalance in the market. On this background,

EURUSD recommendation: Buy 1.1188 / 1.1170 and take profit 1.1260.

Forex forecast GBPUSD today 06/22/2020

A drop in interest rates on interbank loans in pounds is gaining momentum. Investors do not hope for a positive outcome of trade negotiations between London and Brussels. Brexit officially took place at the end of January, but many issues are still not resolved and it is not known when the parties will be able to reach consensus. The market does not like all this hassle and he votes by selling the pound. The Bank of England is driving the oil on fire, which is increasing the volume of incentives and allowing the possibility of introducing negative interest rates. At the same time, today there may be no sales of the pound on the market, but there may be a technical correction, since the pound has been actively "shorted" over the past week.
GBPUSD recommendation: flat 1.2355 -1.2440
Forex forecast USDJPY today 06.22.2020

In view of the absence of important macroeconomic statistics, I propose to pay attention to the dynamics of the positions of large speculators. This report is published weekly by the CFTC. Large speculators are increasing their positions on the Japanese yen, but there are no high volumes - the growth is quite modest, which does not allow us to count on a strong strengthening of the yen. At the same time, futures for the US stock index NQ100 recorded a significant increase in long positions - large speculators are actively buying these futures. For the pair USDJPY, this is a positive signal, since this currency pair has historically correlated with the US stock index. It is difficult to understand which of the two factors will have a strong influence on the course of trading today.

USDJPY recommendation: flat 106.60 -107.37
FreshForex analytics