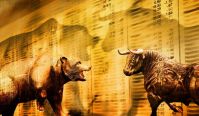 Events to watch out for today:
17.30 Moscow time. US: Department of Energy Crude Oil Reserves Data

Forex forecast EURUSD for today 06/17/2020

In the interbank lending market in recent days there has been an increase in rates on dollar loans, but now the situation has changed. In London, the three-month Libor rate, which is considered the benchmark for the European market, updated the four-year low. In New York, at a daily repo auction, bankers sent applications to the Fed in the amount of $ 21.9 billion, which is the lowest level this month. Moreover, the monthly auction did not take place due to the lack of applications from commercial banks, which indicates the absence of problems with dollar liquidity. For the dollar, this is a negative signal.

EURUSD recommendation: Buy 1.1260 / 1.1240 and take profit 1.1350

Pound dollar forecast GBPUSD today 06/17/2020

On the one hand, we can expect a drop in quotations against the backdrop of negative dynamics in the credit market, where the yield on 10-year UK government bonds is declining compared to its counterparts from the USA and Germany. Investors are skeptical of the rhetoric of British politicians who do not want to make concessions to Brussels on Brexit. The process of Britain's exit from E.S. It was launched on January 31, but many issues are still not resolved, and when this series ends, the main characters do not tell us. On the other hand, I expect the growth of oil quotes, which will positively affect the value of the pound, since both assets are correlated with each other. The day before, a fresh report was published by the International Energy Agency, which expects a significant reduction in reserves in the second half of the year. For the oil market, this is a good signal!

GBPUSD recommendation: flat 1.2500 -1.2588
USDJPY forecast today 06/17/2020

An uptrend in the US stock market will provide good support to this currency pair. The head of the Federal Reserve did not deny the possibility of using the central bank to control the yield curve as a new tool to help restore the economy after the recession. However, he noted that this issue was at an early stage of consideration. Apparently this tool will be used later, in a few months. Meanwhile, US retail sales for May turned out to be significantly better than forecasts against the background of the use of issued cash checks to the population for current consumption, which confirms the V-shaped economic recovery. I also note the IPO of the American biopharmaceutical company Royalty Pharma in the amount of $ 2.2 billion. The placement of shares passed along the upper boundary of the previously announced price range, confirming high demand from investors. Investors are willing to take risks and buy stocks - this is a good signal!

USDJPY recommendation: Buy 107.16 / 106.95 and take profit 107.61
FreshForex analytics