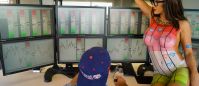 Forex forecast for the EURUSD pair today 06/15/2020

In the interbank lending market in New York and London, there has been an increase in rates on dollar loans, which indicates a decrease in the quotes of the EURUSD pair. In New York, at the last repo auction, bankers filed bids with the Fed in the amount of $ 49.2 billion. On average over the past week, these auctions have been submitted applications for 59.71 billion dollars. In May, the figure was almost three times less. In London, the benchmark three-month Libor rate hit a seven-day high. Such dynamics indicates a change in trend, but a technical correction. The US Federal Reserve still controls the situation and last week announced that it would continue to buy back assets in the market in the amount of $ 80 billion.

EURUSD recommendation: Sell 1.1250 / 1.1270 and take profit 1.1210

Forex forecast GBPUSD for today 06/15/2020

According to CFTC, large speculators are closing pound sales, but the total volume of "shorts" is still high, which is negative for the British currency. The dynamics of the interbank lending market in London confirms this trend: interest rates on loans in pounds are falling, and in dollars are growing. In my opinion, the increase in dollar rates is temporary, as the Federal Reserve buys and continues to buy assets in the market. Starting June 12, the Fed will redeem $ 80 billion of Treasury bonds and $ 40 billion of mortgage bonds each month. The total volume of 120 billion dollars is quite enough to "bring down" the growth of interest rates on dollar loans.

GBPUSD recommendation: Sell 1.2490 / 1.2520 and take profit 1.2450
Forex forecast for the USDJPY pair today 06/15/2020

Forex players in the USDJPY pair should open Buy positions in the expectation of a continuation of the uptrend. According to CFTC, larger speculators sell the Japanese yen - sales have reached the highest level in the last two and a half months. The dynamics of the interbank lending market confirms this trend - the three-month Libor rate in London is falling, indicating a lack of demand for the yen. You can not ignore the dynamics of the copper market. According to CFTC, the net long position in the copper market has become positive for the first time since January 24. This factor indicates an increase in "risk appetite", which traditionally supports the demand for this currency pair.

USDJPY recommendation: Buy 107.00 / 106.80 and take profit 107.40
FreshForex analytics