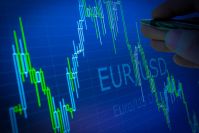 The forecast of the euro against the dollar today 02.06.2020 EURUSD

Today, there are three factors that will affect the course of trading. Firstly, a rally in the commodity market. Investors are actively buying up metals and energy, which is negative for the dollar, because the goods are quoted in US currency and with the growth of their prices, the dollar is depreciating. Many countries around the world continue to lift quarantine restrictions due to the COVID-19 pandemic. Against this background, investors expect an increase in the consumption of metals and petroleum products. Secondly, the trend to lower interest rates on dollar loans continued on the interbank market in London. The three-month Libor rate dropped to a 4-year low - bankers have no problems with dollar liquidity. Thirdly, the market is discussing an increase in incentives from the ECB. The next meeting of the regulator will take place on Thursday,

EURUSD recommendation: Buy 1.1118 / 1.1100 and take profit 1.1165

Forex forecast GBPUSD today 02.06.2020

The British government has announced that it will begin the second phase of lifting the quarantine restriction this week. Kindergartens and elementary school classes, street fairs and car dealerships are open, moving is allowed. In two weeks, the English Premier League will resume the draw of the interrupted football championship in March. For the British economy, this is a positive signal! The rally in the oil market will provide additional support to the pound, as the pound has historically correlated with BRENT oil. The OPEC + summit was postponed from June 10 to June 4, investors are waiting for the extension of the production restriction agreement, which Saudi Arabia previously announced. BRENT oil is just around the corner from psychological level 40.00, and I expect this level to be tested this week.
GBPUSD recommendation: Buy 1.2480 / 1.2455 and take profit 1.2540
Dollar yen forex forecast USDJPY today 02.06.2020

The United States authorities have decided to extend until the end of 2020 the validity period of exemptions from previously introduced customs duties on a number of items imported from China. This follows from an official notice posted on Monday in the electronic database of the US Federal Register - a collection of official documents of the US government. Corresponding duties on Chinese products totaling $ 34 billion were introduced on July 6, 2018. This is a positive signal for the US stock market and the USDJPY pair, as it correlates with the S & P500 index. On the other hand, the negative dynamics of the debt market may cause a decrease in the quotes of the USDJPY currency pair - the spread in the yield of 10-year US and Japanese government bonds shows a decrease.

USDJPY recommendation: flat 107.15 -108.00
FrwshForex analytics