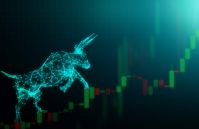 Forex forecast EURUSD today 05.22.2020

This week, Fed Chairman D. Powell speaks almost every day, which rarely happens. But the current situation in the American and global economies is conducive to such appearances. The head of the Fed is setting investors on a sustained recovery in the US economy after the COVID-19 pandemic. Powell thus hints that the increase in the balance of the Fed is a completely natural and very necessary process. For the dollar, this is a negative signal, since the more money is printed, the lower the rate of this currency. This trend is confirmed by the yield spread between three-month US Treasury bonds and a similar Libor rate. Over the past year, the average value of this indicator was 0.37%. In March of this year, a 12-year high of 1.42% was recorded. At the moment, the yield spread is 0.23%.

EURUSD recommendation: Buy 1.0900 / 1.0880 and take profit 1.0980

Forex forecast GBPUSD today 05/22/2020

With the opening of the European session, the UK will publish a report on retail sales for April. Investors expect a strong decline in the indicator and this can be agreed, given the quarantine in Britain due to COVID-19. In this view, this is a neutral factor, since the market has already taken into account the most pessimistic scenario. At the same time, the output of the data is slightly better than the median of forecasts will also not be able to support the pound, since by the end of May everyone is also waiting for weak results. In the interbank lending markets in New York and London, there is a trend towards lower interest rates on dollar loans. In New York, the rate again returned to the level of 0.01%, which is the minimum for the last three weeks. For the dollar, this is a negative signal!

GBPUSD recommendation: Buy 1.2180 / 1.2160 and take profit 1.2240
Dollar yen forex forecast USDJPY today 05.22.2020

Today, a mixed background is forming. On the one hand, we can expect a drop in quotations against the background of negative dynamics in the debt market, where a decrease in the yield spread of 10-year US and Japanese government bonds is observed. The day before, an adviser to the American president L. Kudlow spoke, who called on the Fed to provide an adequate level of liquidity in the banking system so that the economy could overcome the crisis caused by the COVID-19 pandemic. Investors are well aware of this hint, since the next presidential election will be held already in November, and D. Trump will "push" the Fed in every way. On the other hand, the Bank of Japan is also increasing its money supply, which is holding back the yen from over-strengthening.

USDJPY recommendation: flat 107.00 -107.70
FreshForex analytics