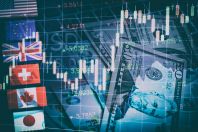 Events today:
15.30 Moscow time. USA: retail volume change.

The forecast for the euro dollar pair EURUSD today 05/15/2020

Bullish rally in the commodity market will positively affect the value of the euro, since the European currency has historically correlated with metals and energy. Investors are actively buying up precious metals, industrial metals, as well as oil. Gold is approaching its eight-year high, while oil is becoming more expensive amid declining production in OPEC + and North America. In April, there was overproduction in the oil market, almost all the leading hydrocarbon exporters significantly increased production. This month, the opposite trend is happening - production is falling in accordance with the OPEC + agreement. There is a possibility that today BRENT oil will update May 6 maximum, located at 32.33.

EURUSD recommendation: Buy 1.0800 / 1.0777 and take profit 1.0880

Forex forecast GBPUSD today 05/15/2020

Traders should expect the growth of quotations of the British currency for two reasons. Firstly, in the debt market, the yield spread of 10-year UK / US government bonds is growing, which will support the pound. Today, the United States will release an April release on retail sales that will disappoint investors with weak data amid quarantine in North America. Secondly, in the interbank market in London, a trend remains to lower interest rates on dollar loans. The three-month Libor rate, which is the benchmark in this market, has reached its lowest level in the last 4.5 years. Low rates indicate a low demand for dollar liquidity, which is negative for the value of the American currency.

GBPUSD recommendation: Buy 1.2205 / 1.2185 and take profit 1.2268
The dollar and the yen forecast USDJPY today 05/15/2020

Today, a mixed background is forming for the USDJPY pair. On the one hand, we can expect the growth of quotations, against the backdrop of positive dynamics of the debt market, where the spread of the yield of 10-year government bonds of the United States and Japan is growing. On the other hand, a rally in the gold market may cause sales of this currency pair, since the precious metal has historically correlated with the Japanese yen. It is difficult to understand which of the two factors will have a decisive influence on the course of trading. Today it is advisable to trade not in this USDJPY currency pair, but in gold, where a steady uptrend has formed, and we can expect an increase in quotations to the area of ​​1747.

USDJPY recommendation: flat 106.88 -107.45
FreshForex analytics